Installment 18: Digital City Amsterdam
By 1993 technical access to Internet was available in the
Netherlands. Three ISPs (NLnet, XS4ALL and Knoware) delivered the technical access mostly to companies, but did not offer any other services. They invested no effort in marketing and promotion as most clients found their way to the companies/foundations. This changed drastically in 1994 when the De Digitale Stad
(DDS)
came online on January 15, 2005. This foundation was an initiative of De Balie, XS4ALL and was set up in order to form a discussion platform for six weeks for the upcoming elections. It was a success from the start, partly because a visitor got a free e-mail address and free access to other textual information; visitors had to fiddle a lot with their PC settings in order get contact with the host. DDS could be reached from Internet, via a dial-in connection and through public terminals in the Stopera and De Balie.
'Mayor' Marleen Stikker cuts the cake in celebration of the first year anniversary

DDS was heavily promoted in the media as well as with citizens and in institutes like old folks homes by the 'mayor' of the city Marleen Stikker. Once DDS was on its way, it got support to continue from the municipality of Amsterdam, grants from the ministry of Economic Affairs and the ministry of Internal Affairs and sponsorship deals. But after a year free access to Internet DDS had to close this facility. In one year DDS attracted 10.000 subscribers and by 1997 DDS had 50.000 subscribers.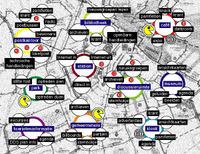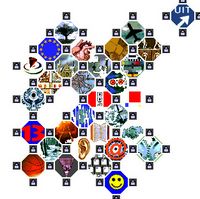 The development of the interface from a first not executed design (top), the first textual screen (middle) and the first graphical screen (under)

The first version of DDS was a textual interface. But this changed, when on October 15, 1994 the world wide web interface was introduced. This was a bold graphic interface, which brought out the virtual city element such as squares and buildings s well as homes. By 1997 around 6500 subscribers had an own home, of whom 1500 inhabitants had their own frontdoor. Besides visitors, DDS also had inhabitants, who could build their own house for free with 5Mb; they also received an e-mail address for sending mails in and outside the virtual city. Inhabitants could also accept another fantasy identity, but this could always be checked. They could also see where other people were in the city and talk to them, while in cafes they could chat with each other.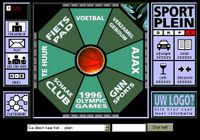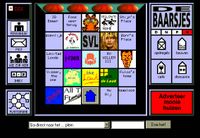 The Sports Square (left) and De Baarsjes neighbourhood with houses in the middle (right)

By the end of the millennium DDS did have trouble to cover debts and the board decided to change the foundation into a limited company. DDS became part of the commercial ISPs. This transition solicited a lot of emotions from inhabitants and led to a schism, the only genuine digital city (DeDS). An
archive
was created. In 2004 a meeting commemorating 10 years of the foundation of DDS was held.
A map of the Netherlands with digital regions, digital cities and villages

DDS was the first digital city in the Netherlands. But soon digital regions, cities and villages popped up like mushrooms and usually died as fast as they came up. In 1986 Wegener and later on VNU Newspapers launched City Online, a project designed by Maurice de Hond. The format looked similar to that of Digital City Amsterdam, complete with houses for inhabitants. It was an expensive project, which was dependent on the goodwill of the editor-in-chief of the printed newspaper in the city or region. City Online never took off and by January 1, 1988 the project was over. Presently we see a variation of the digital city in the form of a local blog, for example in the city of Zwolle.
(The DDS has been documented extensively in articles, essays and even a doctoral thesis; also graphic illustrations have been collected. This instalment is based on
Gebruik en gebruikers van De Digitale Stad van Amsterdam
by Dennis Beckers; some of the illustrations used are available in his essay, other illustrations are available in the
archive
of DDS)