Instalment 23: Wireless Internet
With the slogan
Anywhere, Anytime, Anyhow
indicated that internet was all around and could be used at any place, whatever hour and with whatever means. Part of this understanding was the wireless use of internet. This wireless internet did not come about from the beginning of the digital mobile era (1994), also known as GSM. But due to GSM it was possible to send short messages (SMS) and start text services such as news services, stock quotes and astrology. And these messages and services could not only be received on a mobile phone, but also on smart watches; on January 1, 2002 the Minimail service, which took care of transmitting the messages and services to the smart watches ended its services after six years of service.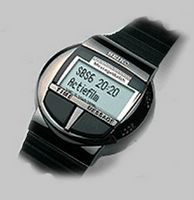 A smart Seiko watch

SMS services became part of the multimedia pallet of publishers such as the publisher PCM, which started a SMS service EN.nl on June 26, 2001 and ended this service by October 12, 2001.
The 11/9 SMS message from EN.nl (collection Jak Boumans)

Another development towards wireless internet was the introduction of
i-mode
. This service had been developed in Japan and was there a great success. The Dutch telco KPN bought the license and started on April 18, 2002 in the Netherlands. The company had very high hopes of the service and hoped 1 mln subscribers by the end of 2003.

I-mode logo and a screen of a health service
The mobile telephone became multi-functional equipment, when a camera was built in. The photographs were transmitted by MMS protocol to other mobile phones and to internet. Using MMS
MediaRepublic
produced in 2002/2003 a soap in instalments, called
Jong Zuid
. Jong Zuid More bandwith became available with GPRS and UMTS, offering new opportunities.
Jong Zuid was a MMS soap with a mirror site on internet (compliments Europrix.nl)

The assignment of UMTS in 2000 a pandemonium with telecom companies trumping each other off. UMTS is interesting for people on the road for linking into the company host to pick up mail or calculate quotes. But more frequency means also more experiments.
Sketch of wearable GPS for city tour through downtown Rotterdam (compliments of Europrix.nl)
In Rotterdam a multimedia journey through reality, named
Codex Kodanski
, was organised as a an exciting four-dimensional interactive radio play through downtown Rotterdam. Walking about with headphones and guided by the Global Positioning System, the participant hears the voice of the protagonist, the compulsive and paranoid Kodanski. Facts, fiction, city history and statistical data combine and mix into an exciting tale about and through the city. The visitors of the Schielandhuis are able to track the participants in real time and follow them on their unpredictable journey through the city on a big screen.
A pupil showing the UMTS phone, before going off to the medieval monuments in Amsterdam like the Schreierstoren (copyright De Waag)

In Amsterdam
Waag
developed a 'mobile learning game'. It's a citygame using mobile phones and GPS-technology for pupils in the age of 11-12. In the Frequency 1550 mobile game, students are transported to the medieval Amsterdam of 1550 via a medium that's familiar to this agegroup: the mobile phone. The pilot took place in 2005 from 7 to 9 February and was supported by
KPN Mobile
's UMTS network. Freency1550 is a research pilot examining whether it's possible to provide a technology supported educational location-based experience.

2GOTV television on mobile telephone (compliments of Europrix.nl)

In the meantime the mobile phone is like a Christmas tree. It has the classical telephone function for people on the move. It can link to internet. It has a camera on board. In the meantime it is also an outlet for television. Vodafone for example offers in the Netherlands 20 TV channels like CNN, Eurosport, MTV and news broadcasts by RTL, NOS and Talpa. MediaRepublic and Vodafone set up
2GOTV
a channel which transmits broadcasts tuned to mobile phone displays. That means quick and perfect images. The programs are compact and the subjects are easily accessible. The line-up of themes is Business, Gossip, Cars and Fashion.
But GPRS and UMTS are not the only channels for wireless telecom distribution. Rather surprising the local Wi-Fi since 2003 and the more urban WiMax presently are popping up all over the place. It gives ease of work at home in the living room and in the garden. But WiFi/WiMax are also going urban. In Leiden a group of enthousiasts have developed a regional
Wi-Fi network
.